Unfortunately ORGATEC 2020 had to be cancelled due to the COVID-19 pandemic. The next ORGATEC will be taking place in October 2022. For the latest exhibitor list of ORGATEC 2018 please click here.
<![if !IE]> <![endif]>

Möbelwerke A. Decker GmbH
Am Bahnhof 3
34434 Borgentreich
Germany
+49 5645 7890

+49 5645 789105

List of Products
This exhibitor shows the following products and commodity groups:

Company & products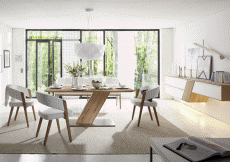 Ramos Milieu Sitzgruppe
Jedes Massivholzmöbel ist ein Unikat.
Nicht nur das Material sorgt dafür, dass jedes Möbelstück ein Unikat ist. Umfangreiche Typenpläne,
individuelle Planungsmöglichkeiten, auftragsbezogene Fertigung und (fast) jede Sonderanfertigung
sorgen für Ihr persönliches Stück Möbel.
Wir stehen zum Unternehmensstandort Deutschland.
Deshalb gehören Herstellung, Verarbeitung und Ausbildung in Deutschland zu unseren unumstößlichen
Unternehmensgrundsätzen. Wir produzieren alle unsere Produkte ausschließlich in
Deutschland.
Umwelt ist unser Umfeld.
Ökologische Aspekte berücksichtigen wir von der Beschaffung über die Fertigung bis hin zum
Endprodukt. Die Verwendung hochwertiger und umweltfreundlicher Materialien und
Fertigungsmethoden ist dabei ein wesentlicher Faktor.
Wir tragen das Goldene M, das Prüfsiegel der Gütegemeinschaft Möbel.
Fertigung und Produktion unterliegen somit einer permanenten Qualitätsprüfung eines neutralen
Prüfi nstituts.
Unsere Möbel sind aus richtigem Holz geschnitzt.
Zum Schutz der Umwelt verarbeiten wir daher ausschließlich heimische Hölzer aus
bestandsgepfl egten Forsten.

Qualität ist die Summe aller Teile.
Hochwertige Materialien, geschulte und engagierte Mitarbeiter/-innen, modernste
Fertigungstechnologien und leistungsfähige Partner in Industrie und Handel sind die Basis
für unseren hohen Qualitätsanspruch.