Unfortunately ORGATEC 2020 had to be cancelled due to the COVID-19 pandemic. The next ORGATEC will be taking place in October 2022. For the latest exhibitor list of ORGATEC 2018 please click here.
<![if !IE]> <![endif]>

Framery Oy
Patamäenkatu 7
33900 Tampere
Finland
List of Products
This exhibitor shows the following products and commodity groups:

Company & products
Happiness creates success. ?Framery creates happiness.
Framery is a pioneer and leading company in manufacturing and developing soundproof private spaces and pods that enable and reinforce happiness in workplaces. Framery was founded in 2010, and its products solve noise and privacy issues in dozens of the world's leading brands' offices, including over 40 businesses from the annual Fortune 100 Best Companies to Work For list.
Framery pods are making everyday office life happier by providing a place where people can concentrate and work more efficiently. But that's just the beginning. Many of our clients are describing how Framery pods are changing their entire work culture. The pod is a place where people automatically go to have one-on-one discussions, do focused work or ideate with a colleague. Framery pods offer spaces both for collaboration and concentration. Noise is reduced, and work becomes more efficient. Happier.
For Orgatec 2018 Framery has planned something special: the European launch for new products Framery 2Q and Framery O Video Conference Ready. These products have been designed to complete and unify the Framery product family and to better answer the demand of both concentration and collaboration spaces.
Framery O Video Conference Ready is a phone booth designed for one person. It's perfect for making important calls or participating in video conferences. Have your discussions in privacy without disturbing your colleagues. Framery O delivers an echo-free and comfortable environment. The installation is quick and the product is ready to be used the same day the product is delivered.
Framery 2Q is a meeting space designed for up to 6 people. It's the best place to co-create, brainstorm and have meetings. Framery's superior sound insulation system guarantees that your meetings won't disturb the office – and the office noise won't disturb you. 2Q comes with two different layouts. A conference table with two height options is optimal for laptop use or workshoppin. You can also choose this meeting pod without any furniture, leaving you the option to furnish it however you wish. A low doorstep makes 2Q wheelchair accessible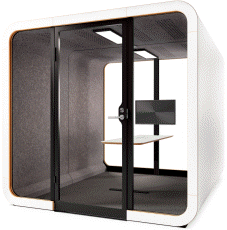 2Q
Double your efficiency! Framery's new model, 2Q is designed for 4-6 people. It's the best place to co-create, brainstorm and have great meetings. Framery's superior sound insulation system guarantees that your meetings won't disturb the office – and the office noise won't disturb you. 2Q comes with two different layouts. A conference table with two height options is optimal for laptop use or workshopping. You can also choose this meeting pod without any furniture, leaving you the option to furnish it however you wish. A low doorstep makes 2Q wheelchair accessible