Unfortunately ORGATEC 2020 had to be cancelled due to the COVID-19 pandemic. The next ORGATEC will be taking place in October 2022. For the latest exhibitor list of ORGATEC 2018 please click here.
<![if !IE]> <![endif]>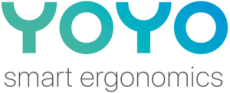 Kesseböhmer Ergonomietechnik GmbH
Siemensstr. 6
73235 Weilheim
Germany
+49 7023 108 0

+49 7023 108 3200

List of Products
This exhibitor shows the following products and commodity groups:

Company & products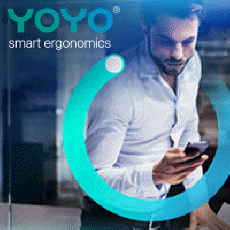 YoYO - Mehr Büro im Büro - Der Arbeitsplatz der Zukunft ist intelligent, vernetzt
Mit YOYO smart ergonomics steckt mehr Büro in jedem Büro – denn YOYO erhöht signifikant die Nutzungsrate von Büroflächen. Das ganzheitliche Desk-Sharing-System setzt aber nicht einseitig auf Kostenersparnisse: Es motiviert Mitarbeiter auf spielerische Art zu gesünderem Verhalten am Arbeitsplatz. YOYO liefert so die Antworten, die Unternehmen und Investoren für moderne Office-Landschaften bislang vergeblich suchten: den intelligenten Arbeitsplatz, der flexibel gebucht wird, seine Nutzungsdaten erfasst und obendrein gesunderhaltende, ergonomisch optimierte Komponenten integriert.
YOYO verbindet damit erstmals scheinbar unvereinbare Qualitäten miteinander und vereint gravierend niedrigere Arbeitsplatzkosten mit gesteigertem Wohlempfinden und höherer Produktivität der Mitarbeiter. Studien belegen, dass gesünderes Personal weniger Fehlzeiten verursacht und mit erhöhter Leistung agiert. Das bereitet ihm selbst mehr Freude und erfreut zugleich den Arbeitgeber.
YOYO ist via Smartphone und App kinderleicht zu bedienen und kann über standardisierte Schnittstellen problemlos in vorhandene IT-Infrastrukturen integriert werden. Die neu erworbene Intelligenz am Arbeitsplätze kann so in vielfältiger Weise genutzt werden – für Kosteneinsparungen, aber auch für motiviertes und gesundes Arbeiten. Dank YOYO können Arbeitnehmer ihren Arbeitsplatz als eine personalisierte Umgebung erleben. Wichtige Elemente wie Tisch, Stuhl und Beleuchtung richten sich an den individuellen Bedürfnissen der Mitarbeiter aus und animieren diesen auf undogmatische Weise, sich persönliche Fitness-Ziele zu setzen. Das erhöht kognitive Präsenz und Motivation und sorgt dank besserer Ergonomie und Lichtverhältnisse für ein gesünderes Körpergefühl und einen Rückgang krankheitsbedingter Fehlzeiten.
Wer moderne Arbeitswelten weiter denkt, denkt deshalb zukünftig YOYO. Denn die Gewinnung leistungsfähiger Mitarbeiter und die Fähigkeit, deren Potentiale nachhaltig zu nutzen, entscheidet heute über unternehmerischen Erfolg.