Unfortunately ORGATEC 2020 had to be cancelled due to the COVID-19 pandemic. The next ORGATEC will be taking place in October 2022. For the latest exhibitor list of ORGATEC 2018 please click here.
<![if !IE]> <![endif]>

Profim Ltd.
Górnicza 8
62-700 Turek
Poland
+48 63 2785181

+48 63 2891201

List of Products
This exhibitor shows the following products and commodity groups:

Company & products
Profim is one of the leading office seating manufacturers in Europe offering swivel armchairs and chairs, visitor chairs and soft seating furniture. Since its founding over 27 years ago, Profim has focused on constant development and quality production. The latest technology, original designs and refined details all form the basis for the company's reliability.
Profim is located in Turek, in central Poland. The factory produces an average of 120,000 seats per month, each created with the highest precision. Production is supervised by 1 800 employees over a total production and warehousing space of 50 000 m2. Profim was the first Polish manufacturer of office chairs to receive ISO 9001 Quality Management Systems certificate.
Profim's mission is to determine standards of healthy and efficient seating. Since the future relies on development, innovation is a key concept for Profim.
The Profim machine park is one of the newest in Central and Eastern Europe, and allows to implement the latest industry solutions.
Profim's work is based on the concept of sustainable development. Company operates responsibly for the benefit of their customers, employees, suppliers, and the local community, always respecting the environment. In order to achieve its goals, the company has implemented an Environmental Management System based on the ISO 14001 standard, which allows for a comprehensive approach to ecology. All Profim seating can be dismantled with standard, generally available tools and all of cardboard packaging is 100% recyclable.
Working with an international group of renowned designers, the company has developed dozens of unique collections. Innovative technologies and an experienced team of engineers enable to implement even the most complex forms.
This year Profim joined the Flokk Group. By doing so, the Group is consolidating its position as the leading supplier of office chairs and furniture for workplaces in Europe.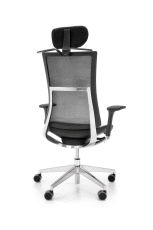 Violle (design: ITO Design)
The Violle is a premium office chair that attracts attention with its elegant design and tasteful, noble form. It's simple but impressive aluminium frame merges the backrest and seat into a harmonious unity. The Violle's great usability comes from its high-level ergonomics, which comes in part from its innovative Synchro mechanism and easily accessible, intuitive adjustment controls – all fully integrated into the seat. Standard equipment includes, amongst others, lumbar support with adjustable height and depth, and multi-adjustable armrests with soft pads. The backrest can be upholstered or made of a breathable mesh, and also fitted with additional options in the form of an upholstered headboard and jacket hanger.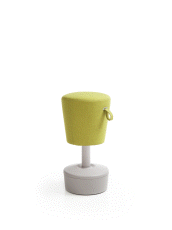 Mickey (design: ITO Design)
Mickey meets the requirements of today's modern jobs and is perfectly in line with the concept of the Activity-Based Workplace. First of all, the seat swivels and swings from side to side, has a height adjustment that goes from a low pouffe to a seat providing support during standing work, and can serve different needs – either quick conferences for several people or sitting at a desk with someone for a while. Secondly, thanks to a special handle, the seat can be easily moved, rearranged and have its height adjusted all at the same time! Mickey can be order in pastel or more expressive colours of upholstery and combine with neutral plastic colours gives opportunity to create creative spaces for spending time together. The Mickey is highly ergonomic and can be used for active desk work, both seated and standing. It also follows the position flawlessly with a built-in 10 degree tilt to either side. These changes of position during work provide active support for the spine.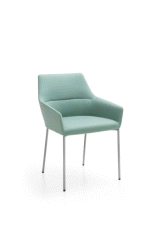 Chic (design: Christophe Pillet)
Chic is a collection of soft seating furniture, distinguished by lightness, elegance and fine-tuned forms. The collection attracts with the subtle profiles of its seating, which gives the visual effect of extremely light furniture. Chic chairs are designed for cafés, restaurant spaces, waiting rooms and hotel lobbies – compact, simple and classic in form. The collection offers chairs with thin metal frames, on wooden legs or 4-star base. Chic armchair is designed for relaxation zones in hotels, guesthouses, lobbies and offices. It has a characteristic low-seated shape compared to standard seating, with reclined shells and extremely comfortable foams that welcome users to enjoy less formal meetings. Chic seating is mounted on a swivel base equipped with an auto-return function, making it ideal for areas that need to be kept neat and orderly.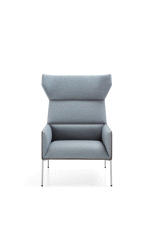 Chic Air (design: Christophe Pillet)
Chic Air seating draws attention with its incredible visual lightness, making them appear as if even a stronger breeze could lift them up in the air. The collection is based on sharp-edged geometric forms combined with the subtle frame profile supporting the furniture. Sublime, well-thought out shapes, unique and hard-to-obtain subtle foam form make the armchairs eye-catching elements of any interior. To give it a more individual look, two different upholstered surfaces can be combined on one model. For example, high-quality leather on the outside, with soft upholstery inside the shell. There is a variety of options to choose from, including seating with low or high backs, chairs with or without armrests, and benches. Result of cooperation between Profim and Christophe Pillet has already been awarded with the Red Dot Award: Product Design 2017 for an outstanding design.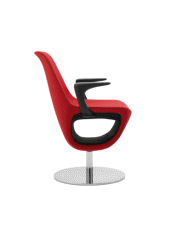 Pelikan (design: Mac Stopa/Martin Ballendat)
The Pelikan is the effect of thinking about designing furniture in an unfettered and creative way. The organic shape of the armchair is excellent for places were one needs to sit for longer periods of time: a library, a conference room, a reception room. The Pelikan draws attention to its original shape, is a solution for those interiors where any free space is invaluable. The lower part of the seat is fitted with a space on which one can place a book, a laptop or a bag.
The collection consists of:
- 4 legs armchair
- 4 legs armchair on castors
- cantilever armchair
- swivel, round base armchair
- swivel, 4-star base armchair
Collection is available in two variants - with or without armrests.
Trademark

Profim