Unfortunately ORGATEC 2020 had to be cancelled due to the COVID-19 pandemic. The next ORGATEC will be taking place in October 2022. For the latest exhibitor list of ORGATEC 2018 please click here.
<![if !IE]> <![endif]>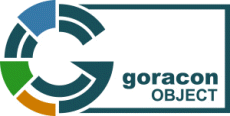 goracon systemtechnik gmbh
Färbereistr. 4
48565 Steinfurt
Germany
+49 2552 99750

+49 2552 997510

List of Products
This exhibitor shows the following products and commodity groups:

Company & products
GRC - Goracon Rail Chair
Die innovative Weiterentwicklung des bewährten Goracon Stuhlführungssystems GSF, eröffnet jetzt die Anwendung als freistehende oder als auf den Boden montierte Ausführung bei gleich hohem Sitzkomfort.

Durch das selbstständige Zurückfahren des GRC in die Startposition, sind alle Stühle immer gleich ausgerichtet. Stühle und Tisch stehen in einer perfekten Ordnung zueinander und ergeben ein aufgeräumtes und ästhetisches Gesamtbild im Meeting Room oder am heimischen Esstisch - zu jeder Zeit.

Schonen Sie Ihren Fußboden, indem der Stuhl fest an seinem Platz bleibt, aber die Sitzfläche dennoch verschiebbar ist!

Das funktionale und zeitlose Design des GRC nimmt sich dezent zurück und bildet eine harmonische Einheit zu dem Stuhl Ihrer Wahl.

Überzeugen Sie sich von diesem innovativen und revolutionären Stulführungssystem!