Unfortunately ORGATEC 2020 had to be cancelled due to the COVID-19 pandemic. The next ORGATEC will be taking place in October 2022. For the latest exhibitor list of ORGATEC 2018 please click here.
<![if !IE]> <![endif]>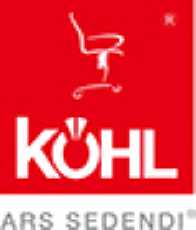 KÖHL GmbH Sitzmöbel
Paul-Ehrlich-Str. 4
63322 Rödermark
Germany
+49 60749280

+49 607495951

List of Products
This exhibitor shows the following products and commodity groups:

Company & products
ANTEO® ALU
ANTEO® ALU verbindet elegante Ästhetik mit ergonomischem Sitzkomfort. Mit dem AIR-SEAT Konzept ermöglicht er mehr dimensionale Bewegungen im Sitzen.
ANTEO® ALU Konferenz
ANTEO® ALU Konferenz beeindruckt durch eine Vielzahl an Variationsmöglichkeiten und einen einzigartigen Sitzkomfortmit dem KÖHL® AIR-SEAT.
ANTEO® UP
Der wandelbare ANTEO® UP überzeugt durch individuellen Komfort, Vielfalt und hochwertige Ästhetik kombiniert mit einem einzigartigen KÖHL® AIR-SEAT.
Trademark
KÖHL